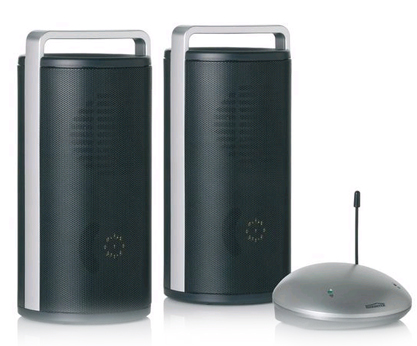 Speaker Anywhere 200
SGD149

- Enjoy your complete music collection anywhere in and around your home (bath room. kitchen, shed. etc.) wirelessly.
- Optimal music perception for both Mono and Stereo audio (switchable).
- High quality 2-way speaker-system, suitable for audio connections from e.g. your iPod. PC. TV. CD-IMP3-/MP4 player.
- Place the speakers wherever you want (they operate on both batteries and mains).

How does the Speaker Anywhere200 work?
The set consists of a transmitter and two speakers. You connect the transmitter to your audio source. Then you can enjoy your favorite music everywhere in and around your home wirelessly through the portable speakers. No fuss with drilling holes, pulling wires. sticking cable ducts etc.